Are you curious?
Here are some basics about me.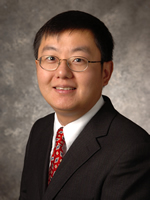 In September of 2013, Qin Lei joined the faculty at the University of Michigan Ross School of Business, where he had received his Ph.D. in finance seven years earlier. Qin also holds a M.A. in Economics from Georgetown University and a B.A. in International Economics from Renmin University of China. Qin was previously a Clinical Associate Professor in finance at Southern Methodist University, where he received the Provost Teaching Technology Grant in 2008, Delta Sigma Pi Distinguished Professor Award 2009-2011, and MBA Outstanding Teaching Award in 2012. He also worked at the International Monetary Fund and contributed to the efforts of identifying early warning signs for financial system instability. Over 2015-2018, he served as the faculty director of Ross MBA Fast Track Finance program. His current research interests are in the areas of asset pricing, market microstructure and investments. Qin teaches a number of investment related courses at the graduate level and the introductory finance at the undergraduate level.
My Curriculum Vitae can be viewed or printed with Adobe Reader of version 5.0 or above.
If you need a free copy of Abode Reader, please follow this link to Adobe's website for download instructions.
The best (and fastest) way of communicating with me is through email at qin-lei/@/live-com (remove slashes and replace dashes by dots). Please note the possibility that your email messages may never reach me because of spam filtering.
You can find additional contact information on my Curriculum Vitae.
---